Biographies of some past and present JazzCats members that have epitomized what has become a wonderful musical movement that is the Jazzcats!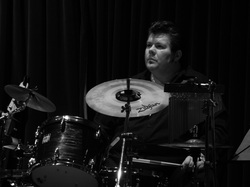 Branko Kezerle, The Jazzcats founding member.
Grew up playing the drums daily to Croatian folk music with dad on piano accordion, Hawaiian lap steel guitar, mandolin, double bass, guitar or violin! This would prove the inspiration to fall in love with mainstream Jazz music later in life. After losing his musically gifted dad, Joe (39yo) in a car accident, ended up taking 2 years of drum lessons in the late 1970's & 6 years of guitar lessons into the 1980's. After not having much luck progressing any garage bands out of the 'garage throughout the 1980's & 90's, in 2003, Branko ended up forming a rock & pop band: 'Gone To Water' with work colleagues who also performed a few jazz songs once at a wedding!
In 2007 the decision to form a Jazz band sextet with work colleagues proved to be a defining musical direction! This would lead to regular performances at small & large scale social club functions. From there the JazzCats grew & developed it's unique Jazz style & groove. This led to gigs at Melbourne & Northcote Town Halls, Melbourne Cricket Ground, Crown Casino Melbourne, Sentido Funf Lounge, Museum Victoria & even Federation Square main stage! At the end of 2012 after 7 years, this line up of JazzCats sadly called it a day.
Branko's vision to keep making cool Jazz music with some of Melbourne's best muzos never died. Since early 2013, some very talented individuals have become part of the JazzCats movement!
Read on and find out some more..
---
Peter Simondson
Has played Double Bass and lead various Jazz bands for several years now. Some of the bands he has been involved with include:
Vlad Zakharov and the Insteps, Slander Band, De Ja Blues, and Musica Extempore and the Surrey Hills Jazz Ensemble.
He is also a well known Melbourne Composer in the MCL and has written a Jazz Concerto for Jazz Band and Orchestra.
He has lead the Diversity Plus Jazz Ensemble for over ten years performing at the Merimbula Jazz Festival, the Inverloch Jazz Festival, The Grampians Jazz Festival, The Geelong Jazz Convention, The Monbulk Blues and Jazz Festival as well as many other performances around Melbourne.
For Peter, The Jazzcats is a band with a high calibre of Jazz Performers.
De Arne Leonard
Who? Glad you asked…
Self-taught 10-year-old guitarist (and shower singer) who started with a church band a year later that lasted two masses as drum kits weren't a thing back then. This didn't stop a love affair with music and singing. Always pushing into different music genres: rock, pop, 50's, wedding, classical, opera, stage musicals and cantering.
Performed as lead singer and bass player in an all-girl alternate group in her teens, however fell in love with Jazz the first time she heard Summertime being sung live.
A member of 2's Company, a trio (where the crows was…. points left), who opened the Werribee mansion carols by candlelight and performed on the television show "Cabaret on the Road".
To sing is to live, and to be a new Jazzcat is beyond words.
Peter Walsh
Pete Walsh was a foundation member of Nova Express, one of Australia's earliest jazz
fusion bands of the 1970s. Since then, after living in PNG and the USA, he has pursued
his interest in music and performing in a variety of pop, blues and jazz ensembles. A
multi-instrumentalist he played keyboards and led small and large ensembles in clubs,
pubs and theatres. His experience includes Musical Director and instrumentalist for a
number of theatre productions including, The Secret Garden, Jesus Christ Superstar and
Funny Girl. He cites amongst his influences Joe Zawinal, Herbie Hancock, Dr John and
Jon Cleary. He brings his broad musical background and considerable enthusiasm to
the Jazzcats with his unique skills on jazz standards as well as modern blues and fusion
interpretations of more contemporary classics.
Kay​ Cai
A passionate, sensitive and versatile pianist, Kay has performed with musicians at venues such as the National Gallery of Victoria, BMW Edge at Federation Square, Stones of the Yarra Valley Winery, Zonzo Restaurant and more. Born into a musical family, she studied classical and jazz piano for many years. She completed her LMusA in piano with distinction in 2003, a Bachelor of Music Performance at the Victorian College of the Arts in 2008 and a Master of Teaching at the University of Melbourne in 2010.
She has extensive performing experience with musicians across jazz, classical, contemporary and world music genres for examinations, auditions and other live performances and has recorded a CD entitled 'Sombras' with La Tin Shed Orqestra on Move Records, playing the music of Astor Piazzolla. She travelled to the United States in 2014 to study at the New York Jazz Academy where she completed a summer intensive. She enjoys jazz improvisation and leading the band at her church for worship services. She writes her own contemporary arrangements of old hymns which are used in this setting.
She works as a classroom music teacher and directs a choir at an independent school, preparing students for regular performances in the school and wider community. She also teaches piano, music theory and aural skills to private students and assists students with exam preparation. She was music director of the primary school production King of the Jungle which was performed in September 2013 at Robert Blackwood Hall, Monash University and The Peace Child performed at 1330 in October 2016 in Scoresby. She plays the violin, drum kit, basic guitar and ukulele and is taking singing lessons to develop her musicianship.
---
Andrew Tulloh
Andrew's first gig was as a drummer in his primary school marching band, but an earlier memory is hearing his mother playing tunes like Chattanooga Choo Choo on the family piano.
Years later when he discovered the likes of Dave Brubeck, Oscar Peterson, Bill Evans and Keith Jarrett, he was hooked. He studied classical piano and jazz styles with various teachers – still going – and has been playing in bands around Melbourne and Geelong since the early 1980's. Some of the venues no longer exist, like The Lemon Tree, The Raglan and Club Bongo but others do, like Rhumbarellas, Dallas Brooks Hall and The Queenscliff Hotel.
Andrew joined the Melbourne JazzCats recently and is glad to be playing again after a break.
---
Helen Corney
The Jazz Cats welcome Helen on vocals. Helen has dabbled in different types of music since her teens.
She enjoys many different music genres, especially jazz classics and any occasion to sing!
---
Lachlan Brown
For Lachlan the harmonic language jazz is a natural extention of his life-long interest in composing impressionist music. He is also loves the intuitive rhythms and phrasing of jazz, and the collaborative improvisation of small jazz groups.
He values the emotional engagement that improvision demands, and brings a sense of lyricism to his playing, influenced, in part, by his involvement in Choral music, Irish folk music and studies in Classical Music Composition.

---
Ziggy Saabel
Ziggy Saabel has worked with various groups in different styles as saxophonist since 1995. An active member of the lively music scene of Berlin, Germany, he played and performed music of different genres including chamber, orchestral and film music as well as swing big band and jazz repertoire.
He left Berlin in 2001 with his bicycle and a clarinet in the pannier to travel New Zealand and eventually moved to Australia. Based in Melbourne since 2004 he has become an active and expressive performer again. Recent studio work started the collaboration with Melbourne drummer Branko Kezerle which Ziggy describes as "the clicking musical minds". This exchange has led to work with the Jazzcats and musical explorations with the new band members. Asked about his approach to music Ziggy replies "respect all styles and play the music you love".
---
Kellie Santin
Inaugural winner of the James Morrison Jazz Scholarship and co-author of seven highly successful books for Oxford University Press, Santin is probably still best known for her eight years spent playing baritone and alto saxes on television's Hey Hey It's Saturday. Career highlights include backing artists such as Randy Crawford, Tom Jones, Kylie Minogue, Ernie Watts, James Morrison, Ruby Turner, Tommy Emmanuel, Thelma Houston, Joe Jackson, Barry Manilow, The Commodores and Bonnie Raitt. Kellie's 'Creative Saxophone' series, published worldwide by Oxford University Press, has received rave reviews and is featured on the syllabi of AMEB, Trinity College of Music, ABRSM and ANZCA.
Having recently returned from eleven years in London, Kellie is thrilled to be back gigging with many of Melbourne's top musicians, teaching at Scotch College and working on her debut album to be released in Spring 2013.
The JazzCats have always been extremely grateful to have Kellie step in on some our gig!
---
Rory Clark
"A new young pianist of enviable talent."Don Brow -Jazz Scene
"In 'New Beginnings' Rory establisheshis reputation as a composer of note."Neal Sellars – tttFM
"We will be hearing much more of this exciting young musician as he rises to stardom."
John Clarke – "Night Music" – 3GDR Melbourne.
Jazz piano prodigy Rory Clark grew up in a musical family and showed considerable promise from a very early age. Gifted with a great sense of harmony, incredible technique and innate creativity, Rory captivates an audience.
Rory began piano when he was eleven years old. He initially studied jazz piano for two years before honing his technique studying both classical and jazz piano concurrently for many years under the tutelage of some of the leading exponents of both classical and jazz music.
Steeped in the traditions of music, Rory has developed his own unique sound, performing in a range of situations at venues around Australia. He has been invited on several occasions to appear at top music festivals including Queenscliff Music Festival, Adelaide Jazz Festival, Paynesville Jazz Festival and The Palmer Street Festival in Queensland. He has also performed internationally and is regularly engaged to back international artists when they come to Australia.
In 2004 Rory went to New York City for the JVC Jazz Festival where he not only got to see a multitude of outstanding musicians but also attended a master class at Blue Note Jazz Club with the legendary pianist McCoy Tyner. Since then, he has worked with some of the best names in Australia and abroad including Jamie Oehlers, Alison Wedding [US], Trudy Kerr [UK], Graham Morgan, Doug De Vries, Willie Qua and Gil Askey as well as being invited to perform on The Hamish and Andy show (Fox FM) and also perform and act in the film trailer for author Bryce Courtenay's latest book Fortune Cookie.
After appearing as a sideman on many albums over the years, Rory got the opportunity to record his debut album 'New Beginnings' at ABC Studios in 2010 with recording engineer Chris Corr. The album features many of Rory's original compositions and pays homage to legends such as pianist Bill Evans, Antonio Carlos Jobim and tenor saxophonist Dexter Gordon. The title track 'New Beginnings' received sixth place out of thousands of entries in the instrumental category of the Australian Song Writers' Association – Song Writing Contest.
Having gained a vast amount of experience over many years in a multitude of situations, Rory is known for highly energetic spontaneity when he performs as well as very controlled subdued playing. He has developed a reputation as a pianist and arranger for his use of rich harmonic chord structures, melodic ideas and strong time.
The JazzCats have been extremely appreciative when Rory has stepped into some of our gigs!

---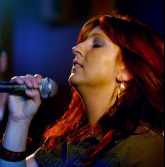 Edith Szena
Edith Szena is a past member of The Jazzcats as a vocalist. She started out with the Jazzcats with Branko Kezerle when it was first formed and has also been involved with doing some guest performances with Gone to Water.
Edith has had varied experience with bands, duos and singing groups playing at different venues around Melbourne, in the styles of jazz, pop and rock. She is currently learning classical piano and also enjoys writing and composing music.